The Thespian Festival took place January 6-8 in Wichita, KS. Eleven students attended this event and five came home with a first place in an improvisation contest.
The Kansas Thespian Festival was a three-day event held January 6-8 in Wichita. Students had sessions from 9 a.m. to 11:30 p.m. Eleven Mill Valley students attended this year's festival along with at least 25 other school districts participating.
A gifted service teacher, Inga Kelly was the godmother who attended this event with the students of Thespians. Unlike previous years, performing arts teacher Jon Copeland asked Kelly to fill in for him this year so Copeland could stay home with his wife who was post-surgery. Kelly was thrilled to have this opportunity to get to know this group of students better.
"My favorite part was just getting to know some of our Mill Valley students better because, again, I'm not really the acting teacher, but they're people I've seen perform in 'The Music Man' and I told them they became real people of mine," Kelly said. "We just have to create these relationships and now they're still growing, which is really good.
One of the attendees at this event was second student Aiden Ferguson. Ferguson described Thespian Festival as "an actors' convention".
"Actors are internationally recognized as comedians and can attend an event to learn different things and learn new things about being an actor," Ferguson said. "It's split into two different things which are entertainment and learning," Ferguson said. "We attend plays put on by groups that have been recognized by comedians, and then we also learn different things. »
As part of this festival, various workshops are offered to students. Some of the options open to students to learn more about what interests them include makeup, dance, and improvisation.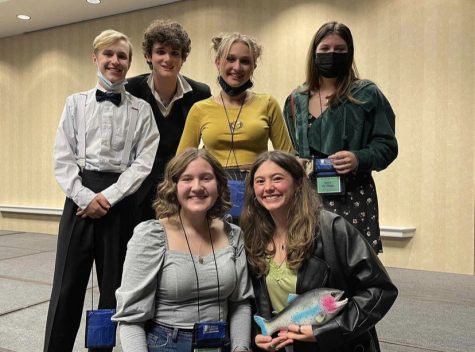 "I've seen everything from puppetry, to makeup, to dance workshops, to improv, and there were all kinds of different things," Kelly said. "Even technical workshops for people to do things behind the scenes, so [the diverse set of options offered]was really cool. I was really excited to see all the different ways students could get involved and learn more about theatre. »
Ferguson's favorite studio was the puppet studio.
"I really enjoyed the puppets," Ferguson said. "We learned the basic puppet types which are shadow, body, string, and hand, and then we learned about Muppet-style puppets and how to operate them."
Ferguson also enjoyed seeing plays and how they were produced by different schools.
"I have to say my favorite part was watching the plays because you could see different schools, how they put on their own plays and how they felt like they could express themselves and it was just fun watching different people develop different things," Ferguson says.
Kelly saw the benefits the students got from this event and felt it was a great opportunity in many ways for these students.
"I think students earn so much [from this event]", said Kelly. I think it was just a chance to see what other schools are able to do. There was a chance to make friends with people from other schools and it was a chance for Mill Valley students to get to know each other better because we spent the whole time on the bus during the trip to Wichita, had meals together and hooked up hanging out together. I think that was really exciting. One of our team of improv they have late night events and we actually won first place in the improv event and so that was really fun to see.
(Visited 18 times, 18 visits today)