DMany residents of the western Chinese city of Xi'an are running out of food after being banned from shopping at the grocery store during a fierce lockdown. In the southern province of Guangxi, people who broke Covid laws were recently publicly humiliated by being walked through the streets in Hazmat suits with signs around their necks.
The rest of the world is learning, slowly and with difficulty, to live with Covid-19, but in China, the authorities are stepping up their efforts on their "zero-Covid" policy: try to eradicate the disease as soon as it appears , and at all costs. A single case in a border town led to the detention of 200,000 people at the end of last month.
A key aspect of the policy is the closing of borders. Few people are allowed in or out of China, and those entering the country face three weeks of government-imposed quarantine. Some other countries have blocked the world for more than a year in an attempt to block the pandemic. But in 2022, Beijing is taking an increasingly lonely path.
A combination of mass vaccination, social pressure and new, highly transmissible variants has persuaded other once-zero-Covid countries – including Australia, New Zealand and Singapore – to slowly start to open up again in the world.
Inside China, some top scientists and officials have also taken the political risk of calling for a similar reopening, in recognition of a world where it looks like Covid will become endemic. Gao Fu, head of the China Center for Disease Control and Prevention, recently suggested that the country could be ready when vaccination rates exceed 85%, possibly in early 2022.
Others have joined scientists abroad, warning that even Beijing's autocratic powers and popular support for lockdowns and other control measures may not be enough to prevent new, highly transmissible variants from entering.
"China will have great difficulties with Omicron and a zero Covid policy," Tulio Oliveira, director of the South African Center for Outbreak Response and Innovation, said on Twitter. He's part of the team that first alerted the World Health Organization to the new variant.
"They may need to reach out to the rest of the world with mitigation strategies. China should not punish its public health officials or its citizens or foreigners for (a) more communicable variant. "
Whatever the cost, China is expected to do everything possible to keep the virus under control for most of this year, ahead of two high-profile and high-stakes events.
Next month, Beijing will host the Winter Olympics, a rally already marked by diplomatic boycotts over human rights violations. In the fall, the Communist leaders will meet for their 20th Party Congress: there are plans to officially extend Xi Jinping's power for five years.
Beijing authorities will have little appetite to endanger the Games or the Party Congress with a Covid epidemic, which would amount to an uncontrolled test of the effectiveness of national vaccinations and medical preparations.
The health risks of opening China to Covid are likely to be higher than in countries that have abandoned their zero Covid policies, said Sean Yuji Sylvia, assistant professor at the University of North Carolina at Chapel Hill, whose research focuses on the health economics and health of China. system.
"There are several reasons why it makes sense for China to maintain tight controls at this time," Sylvia said. "China has a high population density and lower herd immunity in the population due to limited exposure to the virus and less effective vaccines.
"The health care system is also relatively weak in much of the country and could easily be overwhelmed. And although vaccines offer good protection against severe cases, patients with less severe illness are more likely to be hospitalized in China.
Hospitals across the country are also staffed with doctors who have little clinical experience in treating Covid, while professionals elsewhere now have a painfully two-year understanding of its development and how best to control it.
The possible human cost of opening up also has a political dimension. The government and state media have taken the way the virus has spread to other countries as evidence of poor leadership and poor decision-making.
Dropping zero Covid could potentially trigger a crisis in hospitals and healthcare that would open the Chinese government to similar criticism. The first weeks of the pandemic, when hospitals in Wuhan were overwhelmed and the death toll included scores of medics, fueled fury and fear across the country.
"China's zero Covid policy is primarily driven by issues of social stability. The regime views Covid, Sars and other epidemics or pandemics as a health crisis that has the potential to evolve into a social crisis, "said Lynette Ong, associate professor of political science at the University of Toronto. "With that in mind, it's not hard to see why they're willing to defend him at all costs. But the costs are high. As the rest of the world learns to live with it, China will find itself on its own, with few coping mechanisms. "
A key sign to watch out for, she added, is whether Covid's approach changes after leadership decisions are made in the Communist Party Congress.
Strict controls have been surprisingly effective so far. In the past four weeks, as China battles a relatively large cluster of infections by national standards, authorities have detected 3,400 cases and no one has died.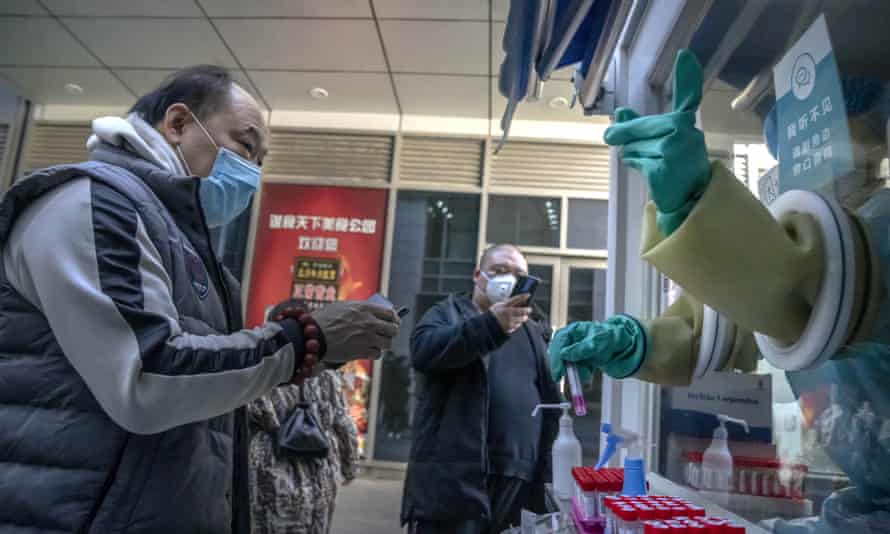 During the same period, more than 5.7 million people have recorded Covid infections in the United States and 36,000 people have died from the disease. And as other economies collapsed under pressure from deaths and lockdowns, China continued to grow
But if its path continues to diverge from that of the rest of the world, the costs and challenges of the zero Covid approach are almost certain to increase.
In 2020 and 2021, once China eradicated its initial epidemic, domestic spending resumed. Its factories have resumed producing goods for the world, adding Covid tests and other medical equipment to their production line, for a pandemic that appeared to be sweeping through the country.
Now, however, the economic calculation has become more complicated. Strict new lockdown and quarantine rules affect everything from global supply chains – as sailors wanting to return home must spend weeks in isolation – to factory production.
Business partners are angry at the sudden impact imposed new border controls, with more than 6,000 Vietnamese trucks suddenly stranded at a border at the end of December. If other markets continue to ease Covid-related controls on movement while China remains closed, they may be forced to look elsewhere for business partners.
If Beijing remains isolated from the world, it could also diminish China's efforts to project its influence around the world. This has been a high profile feature of Xi Jinping's increasingly assertive rule, including his flagship Belt and Road initiative, offering investment and aid around the world.
But for now, authorities have clearly prioritized the political benefits of a Covid-free China, and are willing to pay a hefty price to maintain this unusual status in a world where the disease is becoming endemic.
"China's aggressive elimination strategy has so far proven effective in limiting the national spread of the disease, albeit with significant costs, efforts and trade-offs," said Thomas Hale, associate professor of policy. public at the Blavatnik School of Governance at the University of Oxford. .
"Government statements since the emergence of Omicron – which have presented the current strategy as a success – suggest that the transition point (far from zero Covid) is not near, despite some discussion about it in the media. Chinese.
"Also, when this happens, the transition may not be easy as Chinese society has become quite used to the low level of transmission."